HebWeb: The General Election in the Calder Valley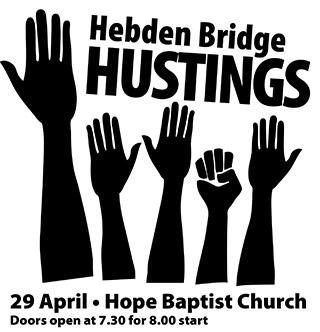 HEBDEN BRIDGE ELECTION HUSTINGS - the HebWeb is organising an opportunity for the voters of Hebden Bridge to meet six of the 7 candidates standing for Parliament. 29 April at Hope Baptist Church. Read more
Three more questions on transport policy - the Sustainable Transport Group has received answers from six of the candidates. Read the replies here (updated 10 April)
Questions to the candidates: The HebWeb wrote to each of the six candidates, posing six questions, designed to help voters understand the differences between the different parties. Each of the candidates has now responded and you can read their replies here. 22 March
See below for HebWeb coverage of previous general elections
28 year old Holly Lynch selected as Labour's Halifax candidate - see BBC report
Local election candidate statements: So far, three candidates have sent the HebWeb summaries of why they want your vote, and photos. Read them here. (15 April)
Local election candidates: following the close of nominations yesterday, the HebWeb is now able to publish lists of candidates for Calderdale and Town Council elections. Surprises include a first UKIP candidate for the Calder ward covering Hebden Bridge, and far fewer candidates for the Town Council. Read more (10 April)
HebWeb Discussion Forum:
Read and/or take part in the lively discussion about the election issues raised here in the Calder Valley. Nearly 100 contributions have been posted to the following threads.
The general election will be on 7 May. The candidates are pictured in the left and right columns, in alphabetical order.
Register to vote: To be sure you can vote in May's General Election, you need to check you are registered by Monday 20 April 2015. More info and links to register online.

Above: Question Time on Education with the candidates, Friday 6 March at Calder High School. Report of meeting
The 2015 election in the Calder Valley may well be decided by the extent that UKIP and the Greens are able to win votes from the main parties. Unless you think different. Use our HebWeb Forum for discussion
Town Council Elections - Every four years, elections take place for the whole of Hebden Royd Town Council. This year, they coincide with the General Election - Read more
This section will be updated regularly with news and info about the election in Calder Valley.

Questions to the Candidates
The HebWeb has written to each of the candidates, posing the following questions.
The candidates' answers will be posted here.
If elected, would your party stop the threatened closure of A & E in Calderdale?
As an MP would you argue for or against continuing policies of economic austerity?
To what extent would regional devolution help overcome the North South divide?
Human-induced climate change is now accepted as fact by scientists and most politicians. What urgent steps would candidates take to bring us back from the brink?
Is Britain's future in Europe?
Calder High was described by the last Secretary of State for Education as the worst school building he had ever seen. How confident are candidates that any government they are part of would rebuild those schools in our area which urgently need rebuilding?

Previous general elections on the HebWeb
For much of the 1980s and 1990s, Donald Thompson held Calder Valley for the Tories.
Labour's Christine McCafferty took the seat in 1997 and held it until 2010 when she retired.
Craig Whittaker won for the Tories in 2010. The Liberal Democrats came a close third.
2010 General Election HebWeb coverage of the last general election.
1997 General Election - hardly anyone was at this time using the Internet for political coverage and discussion. The HebWeb was among the first websites to do this. We wrote: "The Hebden Bridge Web invites you to join its experiment in online democracy."